Chocolate cake... mmmmm chocolate cake
Have you noticed that stores are going out of business like crazy? I was over in Old Navy looking for
christmas
gifts for my little cousins walked out and noticed
Pfaltzgraff
was closing next door. I've been in need of a good 9" square pan so in I went. Everything in the store was 50-80% off, that's my kind of sale :) Anyway I left with an adorable stoneware baking dish, totally retro in style (it's orange!) and I LOVE it!
Now that I had the new pan I needed to bake something! While at Blueberry Hill Fran managed to get the self saucing cake recipe out of Tim and it called for a square pan... however when I described this cake to John he wasn't sounding like much of a fan... needless to say I made something else instead and will be making the self saucing cake at my house :)
I decided to make a chocolate cake batter that I normally use for
cupcakes
. I finally found whole wheat pastry flour at the store so I used that this time! It came out delicious!!!
As for the frosting... it comes with a
story
. I had an exciting Friday night, John was at the gym playing basketball after work and I had gone for a run in the morning so I was alone to cause
mischief
! So what do I do you may ask??... walk over to the library. How exciting am I!?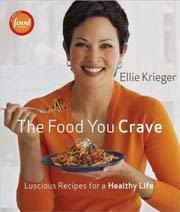 I wanted to pick up "The Food You Crave" There is a new group who cooks from it every week and their
recipes
look amazing!! Clara over at
I heart Food 4 Thought
is in the group and I love love love reading about all the yummy things she's been cooking up! I haven't made anything yet but oh I'm going to don't you worry!
Back to the frosting... of course I forgot the piece of paper with the call number of the book on it... so I decide to just look through the cook book section and find it...
Yeahhhhh
the cook book section is much MUCH larger then I ever expected, seriously thousands of books WOW, and this is just the library by John's house not the big downtown library!!! While searching for said book I came across three others that I decided to check out as well. One that caught my eye was
Baking without fat
. As you know I use things like prune purees and apple sauce to cut out fat... so I was totally excited to see what this book had to offer. This book also
doesn't
use white sugar they use honey
and
maple syrup so anyone who wants to cut out refined sugar go check out this book!
Ok
I'm babbling now... anyway the book has a frosting recipe... frosting without fat or white sugar... seriously?? Oh yes, and it was good! Next time I'll use milk chocolate cocoa instead of dark chocolate to cut on the boldness in taste, other then that... bring it on!

Fudgy Chocolate Cake
1 cup unsweetened apple sauce
1/4 cup

splenda

blend for baking (or 1/2 cup white

sugar

)
1 tsp vanilla extract
1 egg
3/4 cup whole wheat pastry flour
1/3 cup Hershey's 100% Cocoa Special Dark
2 tsp Baking powder
1 tsp baking soda
dash salt
1 tsp cinnamon
1/2 cup chocolate chips (i used semi-sweet chips)

Preheat over to 350 F
Mix apple sauce,

splenda

, vanilla, beat in egg
In a separate bowl mix flour, cocoa,
baking powder,
baking soda, salt, cinnamon.
Add flour mixture to wet mixture a little at a time, stir in chocolate chips.
Spoon batter into 9x9" pan
Bake for about 25-28 minutes or until top is firm to touch.


Fat free Chocolate Frosting


1/4 cup fat free dry milk solids (found them above the cans of

evaporated

milk in the baking aisle)
1/4 cup water
1/4 cup cocoa powder
1/4 cup plus 1 Tbs honey
1 1/2 tsp vanilla

In a medium sauce pan

dissolve

dry milk solids into water. Turn heat to medium and add cocoa and honey, stir until thickened (about 15-20 minutes). Take off heat and stir in vanilla, let set for 10 minutes, spread onto cake or cupcakes, makes enough for one 9" cake.

Chow!